Consumers sometimes use the terms "client" and "customer" interchangeably, but there's a big difference between the two in real estate. If you're relatively inexperienced in buying and selling properties and you want some expert guidance and advice, I strongly recommend signing on as a client, and not as a customer.
The REALTOR® Consumer Relationship
In Ontario, the real estate profession is governed by the Real Estate and Business Brokers Act, 2002, and Associated Regulations (REBBA 2002 or Act), administered by the Real Estate Council of Ontario (RECO). All Ontario REALTORS® are registered under the Act and governed by its provisions. REBBA 2002 is consumer protection legislation, regulating the conduct of real estate brokerages and their salespeople/brokers. The Act provides consumer protection in the form of deposit insurance and requires every salesperson/broker to carry errors & omission (E&O) insurance.
When you choose to use the services of a REALTOR®, it is important to understand that this individual works on behalf of a real estate brokerage, usually a company. The brokerage is operated by a Broker of Record, who has the ultimate responsibility for the employees registered with the brokerage. When you sign a contract, it is with the brokerage, not with the salesperson/broker employee.
The Act also requires that the brokerage (usually through its REALTORS®) explain the types of service alternatives available to consumers and the services the brokerage will be providing. The brokerage must document the relationship being created between the brokerage and the consumer, and submit it to the consumer for his/her approval and signature.
The most common relationships are "client" and "customer", but other options may be available in the marketplace. A Buyer's Representation Agreement acknowledging a Client relationship is an "exclusive" agreement meaning both parties agree to work only with each other. A Buyer Customer Service Agreement acknowledging a Customer relationship is a "non-exclusive" agreement, meaning both parties agree to work with other people.
Client
A "client" relationship creates the highest form of obligation for a REALTOR® to a consumer. The brokerage and its salespeople/brokers have a fiduciary (legal) relationship with the client and represent the interests of the client in a real estate transaction. The REALTOR® will establish this relationship with the use of a representation agreement, called a Listing Agreement with the seller and a Buyer Representation Agreement with the buyer. The agreement contains an explanation of the services the brokerage will be providing, the fee arrangement for those services, the obligations the client will have under the agreement, and the expiry date of the agreement. Ensure that you have read and fully understand any such agreement before you sign the document.
Once a brokerage and a consumer enter into a client relationship, the brokerage must protect the interests of the client and do what is best for the client. A brokerage must strive for the benefit of the client and must not disclose a client's confidential information to others.
Under the Act, the brokerage must also make reasonable efforts to determine any material facts relating to the transaction that would be of interest to the client and must inform the client of those facts. Although they are representing the interests of their client, they must still treat all parties to the transaction with fairness, honesty, and integrity.
Self-Represented Customer
A buyer or seller may not wish to be under contract as a client with the brokerage but would rather be treated as a customer. A REALTOR® is obligated to treat every person in a real estate transaction with honesty, fairness, and integrity, but unlike a client, provides a customer with a restricted level of service. Services provided to a customer may include showing the property or properties, taking customer direction to draft an offer and present the customer offer etc. Brokerages use a Customer Service Agreement to document the services they are providing to a buyer or seller customer.
Under the Act, the REALTOR® has disclosure obligations to a customer and must disclose material facts known to the brokerage that relate to the transaction.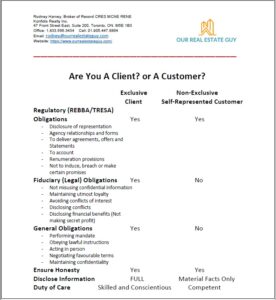 Whether you sign a Representation Agreement (which makes you a client) or a Customer Service Agreement, your salesperson and other employees of the brokerage are required to treat you with fairness, honesty and integrity, and provide you with competent service.
The key distinctions between the two options is that as a client, the brokerage owes you a fiduciary duty. That means the brokerage must follow your lawful instructions, promote and protect your best interests as a buyer during a real estate transaction, and refrain from sharing any information you don't want them to disclose. Your salesperson or broker can help you prepare and negotiate an offer to seek the most advantageous terms on your behalf, refer you to other professionals, including home inspectors, and assist you in performing due diligence on a property. For example, that could mean getting your real estate lawyer to look into whether or not there are any issues with a particular property as part of their services.
As a customer, the brokerage doesn't owe you a fiduciary duty. Your salesperson may assist you with filling out the paperwork for your offer, but you will have to come up with your own negotiation strategy to purchase the property, for instance. They have to be fair and honest, but they do not have an obligation to promote or protect your best interest.
If you're relatively experienced in buying and selling properties you might be comfortable with accepting the customer option. However, you should be aware that it's entirely possible that the salesperson or broker who signed you as a customer may wish to show you a property that is owned by somebody they already have signed as a client. Be aware multiple representation must be consented to in writing because service levels and brokerage obligations will change. When such a situation arises, ask questions and make sure you are comfortable with how it may affect the services provided to you.
So let's say you're interested in that property, and you want to make an offer. As a customer, you should expect that any information you share with your salesperson, such as the upper limits of your price range or your reasons for buying, will be shared with their seller client. In other words, your salesperson will help you, their customer, facilitate the purchase, but will be acting in the best interests of their client, the seller.
The Code of Ethics clearly states that loyalty ultimately rests with the client and that a broker or salesperson must protect and promote the client's best interests. However, the Code also requires that a broker or salesperson deal fairly, honestly and with integrity and provide conscientious service to all clients and customers. You can decide to be a customer, rather than a client, but should be aware that the obligations of the brokerage will differ.
Make sure you read and understand any documents you receive from the brokerage. Think carefully about your needs, and discuss your options with your salesperson before you sign.
What Happens When…
Buyer(s) and the seller(s) are sometimes under contract with the same brokerage when properties are being shown or an offer is being contemplated. There can also be instances when there is more than one offer on a property and more than one buyer and seller are under a representation agreement with the same brokerage. This situation is referred to as multiple representation.
Under the Act, the REALTORS® and their brokerage must make sure all buyers, sellers, and their REALTORS® confirm in writing that they acknowledge, understand, and consent to the situation before their offer is made. REALTORS® typically use what is called a form 320 "Confirmation of Co-operation and Representation Buyer/Seller" to document this situation.
Critical Information
REALTORS® are obligated to disclose facts that may affect a buying or selling decision. It may be difficult for a REALTOR® to judge what facts are important. They also may not be in a position to know a fact. You should communicate to your REALTOR® what information and facts about a property are important to you in making a buying or selling decision, and document this information to avoid any misunderstandings and/or unpleasant surprises.
Similarly, services that are important to you and are to be performed by the brokerage, or promises that have been made to you, should be documented in your contract with the brokerage and its salesperson/broker.
Click here for your copy of "Working with a REALTOR®" which explains relationships and multiple representation in real estate.
Click here for your side-by-side comparison of the duties that are owed the "Client" and "Customer" including service obligation definitions.
To ensure the best possible real estate experience, make sure all your questions are answered by your REALTOR®. You should read and understand every contract before you finalize it. If you have a question about the buying or selling process, please call or email me.