Invest in Single-Family Rental online with confidence
Konfidis Inc. is Canada's leading full-service REALTOR® brokerage and technology service provider for Canadian residential real estate investors. Konfidis strives to democratize residential real estate investing, which has historically been challenged by limited analysis tools and a lack of turn-key management solutions. Konfidis provides full-service support for its clients to evaluate and acquire investment properties with the most compelling risk-adjusted return characteristics through top-down geographic regional analysis, bottom-up rental income, and total return analysis; and supports the comprehensive management of those investment properties on behalf of its clients. As a core principle, Konfidis is dedicated to delivering enhanced solutions for Canadian families seeking high-quality and dependable long-term rental housing alternatives.
Konfidis is dedicated to delivering an exciting new offering for tenants seeking high-quality and dependable long-term rental housing solutions. "Recent news headlines continuously highlight how buyers have been priced out of the market, and this is especially problematic for families who wish to rent in a specific school district, for example, given the acute shortage of quality single-family homes available for rent in those districts. In addition, landlords are by-and-large mom-and-pop owner-managers and unfortunately great tenants do sometimes have poor experiences and fear sudden eviction if the landlord decides to move into the property. We believe our professional and tenant-first offering will deliver comfort and security of tenure to longer-term renters with a high level of service," said John Asher, President and Co-Founder of Konfidis Inc.
Our mission is to use technology and data to find the needle in the haystack
"The current residential real estate landscape is dominated by resources that serve owner-occupier families. Konfidis provides an investor-focused suite of tools that are not restricted to local knowledge only, rather we scour a wider geographic region for the best investment opportunities driven by technology and big data and without emotion," said Jared Kalish, Executive Chairman and Co-Founder of Konfidis Inc. "We believe that KonfidisRANK ™, our proprietary acquisition software, which utilizes 100+ million data points to search and evaluate tens of thousands of opportunities in real-time across different cities, will enable our clients to outperform the market. We're fortunate to have an extremely talented technology team which is applying top tier big data and machine learning techniques to leverage a wide and innovative array or datasets to continuously improve upon the KonfidisRANK ™ scoring methodologies to better forecast which properties will outperform the market over the long-run and generate alpha for our clients."
Konfidis believes in rigorous investment opportunity due diligence practices and best-in-class governance and risk-mitigation practices; such principles are instilled in Konfidis' product and service offering.
"On a total return basis, the Canadian residential real estate sector has been among the best performing and highly liquid asset classes globally. Canada benefits from strong population, employment, and demographic trends that bolster accelerating demand for housing," said Shael Soberano, Chief Investment Officer of Konfidis. "Notwithstanding these strong demand drivers, there continues to be a significant undersupply of housing. Such mismatch supports continued outperformance of this asset class, especially in an inflationary environment, and will force private sector investment to innovate new housing solutions. Konfidis is dedicated to supporting investors that are seeking to benefit from these dynamics while providing Canadian families enhanced quality housing, and flexible alternatives."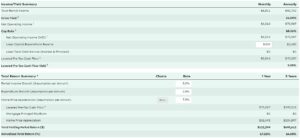 Making residential investing smarter, simpler, and worry-free
WHY INVEST WITH KONFIDIS?
We're working to find the needle in the haystack
Our tech and data instantly ranks thousands of property listings to find the best SFR opportunities
We're also sourcing exclusive 'off-market' opportunities which means we don't compete
Once we have our shortlist, our team performs on-site reviews to generate institutional grade investment reports, to validate our strict selection criteria
Now that we've shortlisted the shortlist, our system allows us to handle hundreds of bids simultaneously. Our internal committee will only approve buying at set prices. We're not prepared to overpay in a bidding war
We leverage Konfidis' proprietary rental rate database, the most robust and dynamic in the market
No hassle ownership. We remove the hassle of being a landlord
Proprietary technology for a more efficient closing process
You're in good hands with our vetted partner network including specialist mortgage advisors for investors
We help you find the right tenant
Reduce the hassle to focus on your family
Konfidis delivers the best Single-Family Rental (SFR) properties across Ontario, to investors anywhere. Making SFR investing smarter, simpler, and worry-free. Vetted and exclusive opportunities await. Interested and want to learn more, contact me here or visit our website to see how it works.