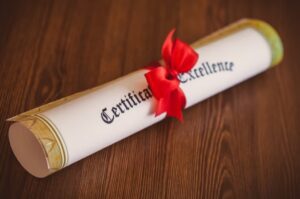 Curious about the string of letters behind your real estate agent's name? Looking for an agent with special training to meet your needs?
Known as real estate designations, these fancy labels show off an agent's certifications in niche categories of the business—whether it be downsizing, divorce, or vacation properties—and must be earned with additional studies and training beyond the standard real estate license.
Real estate designations are specialized credentials available to real estate professionals who have demonstrated deep knowledge or extensive skills in certain areas of the real estate industry. REALTORS® get designations to demonstrate that they've acquired considerable knowledge about certain niche areas such as representing buyers and sellers, commercial real estate, running a brokerage, and running real estate teams. Designations not only give REALTORS® additional insight into a real estate specialty, but are also well respected in the industry.
A real estate designation is a special endorsement on their real estate license that certifies them as an expert in a particular area of the business. Designations are usually offered by trade organizations and sources trusted by consumers. Generally, applicants must meet education and experience requirements to earn real estate designations.
Why it matters:
If you see these little letters behind an agent's name, it means they're in good standing with all of the official real estate organizations from a national to a local level, come with great connections, and have taken the time to become experts in their field.
Real estate designations give you an easy way as a client to identify agents with niche business expertise in an area that's valuable to you and can serve your needs more effectively.
CERE – Certified in Ethical Real Estate
Rodney Harvey believes that everyone deserves the highest ethical and professional standard when dealing with real estate professionals. The CERE certification is designed to help develop and refine the real estate practitioner's decision-making skills from an ethical standpoint.
Completing my Certification in Ethical Real Estate (CERE) ​is a way I set myself apart from others in a highly competitive industry and signifies that I hold myself to the highest ethical and professional standard.
CLO – Certified Leasing Officer
The Certified Leasing Officer (CLO) designation recognizes the proven specialist in leasehold acquisition, disposal and administration. The CLO program prepares professionals for the complexity of today's real estate leasing decisions, providing the tools and resources that will help expand their career and business opportunities. To obtain the CLO designation a minimum of three (3) consecutive years of creditable experience actively engaged in leasing activities for a minimum of 50% of their working day, must be met in order for a candidate to qualify for membership.
This rigorous, specialized education program gives them the edge in every aspect of the leasing process, from acquiring space to administering a leasehold.
FRI – Fellow of the Real Estate Institute
The FRI designation identifies a real estate practitioner who has acquired advanced skills and knowledge, and met nationally-recognized business and ethical standards. The FRI designation is acknowledged by the real estate community as a standard of excellence and accomplishment.
The FRI designation ensures enhanced knowledge and skills in legal and regulatory issues, advanced negotiation techniques, and professional ethics with real world applications.
MCNE – Masters, Certified Negotiation Expert
An agent who carries the MCNE designation has been trained in professional negotiation tactics by the Real Estate Negotiation Institute, the leading negotiation training and coaching company for real estate professionals in the world. An MCNE professional knows how to use leading edge negotiation strategies and techniques for your benefit. You can be confident that an MCNE professional will achieve the best results for buyers and sellers.
Broker's who hold the MCNE designation have completed a full 48 hours of Negotiation training based on models of the Harvard Negotiation Program. They have mastered and exercised tactics of BATNA and collaborative negotiations, engaged with frameworks to best represent both Buyers and Sellers, have succeeded in written negotiations, and have studied the nuanced areas of negotiating across cultures and generations.
CCIM – Certified Commercial Investment Member (Candidate)
A Certified Commercial Investment Member (CCIM) is a recognized expert in the commercial and investment real estate industry. Of the more than 150,000 commercial real estate professionals in the United States, only an estimated 6 percent hold the most coveted & respected designation in the industry. This elite corps of CCIMs includes brokers, leasing professionals, investment counselors, asset managers, appraisers, corporate real estate executives, property managers, developers, institutional investors, commercial lenders, attorneys, bankers, and other allied professionals.
The designation is awarded by the CCIM Institute to professionals who complete over 200 hours of graduate level courses and who pass a comprehensive exam covering financial analysis, market analysis, user decision analysis and investment analysis. In addition to completing coursework and passing exams, a CCIM must prepare a portfolio demonstrating practical real world experience.
Membership in CCIM allows a broker to compete with the big six global brokerages by providing independent brokers with access to a professional network of over 13,000 CCIM's in 1,000 markets throughout the US, Canada, Mexico and in more than 30 nations overseas. Membership in CCIM also provides member brokers with access to a suite of advanced online technology tools provided through the CCIM website.
CCIM's are an incredible resource to commercial real estate owners, investors and advisors and by hiring a broker with the designation, clients can rest assured that they are hiring a professional with a core level of commercial real estate competency and experience.
RENE – Real Estate Negotiation Expert
RENE (Real Estate Negotiation Expert) is the only negotiating credential recognized by NAR (National Association of REALTORS®). Through examination of all types of negotiation formats and methods, they have developed skills in behind-the-scene-issues and how to deal with them, how to handle a wide variety of personalities and situations, and how to sort out the competing objectives of the parties involved in a transaction. Successful graduates are equipped with the know-how of when and how to negotiate, craft negotiation strategies, apply principles of persuasion, and achieve optimum results with any party in a transaction.
A broker who carries the internationally recognized RENE certification has received advanced training in professional negotiation tactics and knows how to use leading edge negotiation strategies for their client's benefit.
CRB – Certified Real Estate Brokerage Manager
The Certified Real Estate Brokerage (CRB) Designation is one of the oldest and most respected designations in the industry. CRB designees are proven leaders and are among the most effective, efficient and profitable in the industry. This designation exemplifies the highest level of professional achievement in real estate brokerage management. These credential holders are part of an elite group – only 3% of REALTORS® have met the requirements. Designees in Canada must also be an International REALTOR® member (IRM) with the National Association of REALTORS® (NAR).
The Certified Real Estate Brokerage (CRB) Designation is designed to elevate professional standards, enhance individual and office performance, and designate real estate professionals who demonstrate the knowledge essential to the practice of brokerage management.
C-RETS – Certified Real Estate Team Specialist
The C-RETS designation is the first and only team credential recognized by the National Association of REALTORS®. The premier certification for high performance teams, C-RETS is designed to elevate and enhance team development, individual leadership skills, and improve financial performance. Designees have demonstrated proficiencies to develop and streamline operating practices, market and position their businesses, implement new technologies and manage the bottom line.
CRES – Certified Real Estate Specialist
The CRES member is an individual who has balanced knowledge in all areas of real estate. It is earned by only the top performers, who have demonstrated exceptional skills, training, experience and commitment that have gone above and beyond any provincial licensing requirements.
In an industry with over 162,000 practitioners and a high turnover rate, a CRES member is a proven specialist with a passion for the industry and a desire to obtain the very best deal for each and every one of their clients.
Broker of Record
A Real Estate Broker is similar to a Real Estate Agent, but the broker is licensed to manage their own real estate business, whereas the agent must work with Real Estate Brokers. A commercial real estate broker provides a commercial buyer with market demographic studies, environmental research, and significant financial analysis.
Additionally, commercial real estate brokers employ statistical analysis techniques, including breakeven analysis, to help clients determine a basic margin of safety. Other common skills include researching and discussing property maintenance costs and possible renovations, networking with local businesses, negotiating between buyers and sellers, overseeing property inspections, arranging for financing, and facilitating final transactions.
Brokers who take on the role of managing a brokerage, are known as the Broker of Record. Brokers of Record will be in the background managing the business, reviewing transaction details and serving as a resource to your real estate professional. In the unlikely event that you have questions or concerns that your salesperson or broker can't address, you can speak with the Broker of Record.
The Right Real Estate Broker for You
My experience tells me, investors hoping to build a rock-solid diversified portfolio are better off partnering with an investor-focused REALTOR® than paying the higher long-term costs associated with choosing the wrong property.
Whether you're leasing, buying or selling; it's ultimately about realizing a dream. I understand how much the decision will mean to you. In fact, that's one of the reasons I became a real estate broker– to help people buy, manage and sell real estate assets, while making the process easy and trouble-free. Clients often tell me how much they appreciate my professionalism, my willingness to be there with them every step of the way, and my determination to get them the best deal. They also tell me I'm friendly and a pleasure to work with – which is quite a compliment!
Next Steps
If you're looking for a real estate broker, it's important that you find someone who is a good fit for you. So let's talk. Whether you're selling or buying, I'd like to learn more about you and your needs and goals. You can count on me to "tell it like it is" and give you a realistic picture of what is possible.
Contact me to get in touch.
As a real estate professional who puts clients first, I look forward to hearing from you.