How to Interview a Realtor in a Brief 15 Minute Phone Call
You're about to face one of the largest financial transactions of your lifetime. You need to hire a real estate agent and you need them to know their stuff. But who's got the time to spend hours and hours grilling a bunch of agents on their strengths and weaknesses? You need to get in, get out, and get down to business either buying or selling your home.
To that end, I've put together this easy-to-follow suggestion for how to interview real estate agents on your initial phone screen. I recommend that you interview at least 3 top agents in your area before you hire one, so the goal is to get all the information you need to make a smart hiring decision in 15 minutes or less per call.
Haven't found a real estate agent yet?
Now, your job is to dig in on these calls and get to know these agents on a personal level to not only see if you'd enjoy working with them over the next few months but to make sure you trust them.
I know you're busy, so before I go into detail on why these questions are the right ones to ask, here's a grab-n-go list you can use on your next call:
How long have you been in business?
How well do you know the area?
What sets you apart from other agents here?
How many clients do you represent at a time?
Who would I be working with on your team?
What's your marketing plan for properties like mine?
How do you handle prep work and staging?
How deep is your professional network if we need contractors?
How often will we be in touch?
Do you have any buyers / properties in mind already?
What's the biggest challenge you think we'll face?
What kind of guarantees do I get?
How long do I have to review the documents before I sign anything?
How much do you charge?
Can you send over some client references?
If I pick you, what's the first thing we need to do to get started?
What haven't I asked you that I need to know?
Want to see how these 17 questions get to the heart of your agent relationship and structure your phone conversation in a way that saves you time without losing substance?
Read on.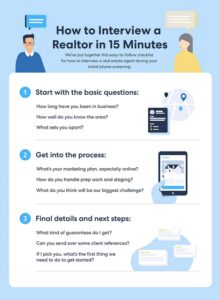 Interview a Real Estate Agent in 3 Parts
Each of the real estate agents you talk to are trying to win your business. So, they'll want to run the conversation and talk to the points they feel best represent them. That's fine for the most part, they'll cover a lot of the material you need to know.Unfortunately, they can get a little carried away and we've only got 15 minutes!To keep the conversation on track and on time, you want to break it into 3 specific sections and try to keep each one to a maximum of 5 minutes per subject. 5 minutes should be enough time to get the information you need and move on with your life.
Here's how the call topics break out for a good real estate agent interview:
5 minutes: Get the basics out of the way.
5 minutes: Get a feel for how they do what they do.
5 minutes: Go over logistics and next steps.
1. Let's get down to basics
The beginning of the call is the best place to get to know the agent's business and how well they know the area. You're listening for things that signal experience, knowledge about the area, and workload.
How long have you been in business?
The agent's answer to this question will give you some clue to their track record. If they've been in business a long time, you know they're managing a stable and respectable business. They probably know the area really well and they'll have a deep network of agents and other real estate professionals to draw from during your work with them.
On the other hand, if they've only been in business a few years, they're likely hungry for your business. A young, scrappy, real estate agent with strong performance data may fight harder for you but may struggle with nuanced roadblocks that come up.
How well do you know the area?
Here's your chance to test them on their knowledge of your real estate market. Ideally, your agent will have lived in and around the area for a long time. They'll know all the hidden gems, they'll know the buyer taste trends, and they'll have a firm grasp on housing market and economics data.
What sets you apart?
You're comparing multiple agents to find the best one for you. There's no reason to hide that. This question gives the agent a chance to sell you on their business a little bit and at the same time it gives you more of the information you need to compare and contrast them against the other two agents you're talking to.
How many clients do you represent at a time?
The subtext in this question is simply: will you make time for me and my needs? You want to get the agent to divulge information about how they handle their workload and get a good idea about their team's capacity to meet your needs.
If an agent is working too many deals at once, you're liable to work more with their team and their assistants than with the agent themselves. At the same time, you don't want to be the agent's only client because that could be a sign that their business is slow.
Listen carefully to how the agents answer this question. Ideally, they'll make you feel comfortable and confident that they'll give you a ton of attention no matter how many other clients they have.
2. Now, how does all this work get done?
The meat of your phone interview with real estate agents needs to focus on the job at hand. Whether you're buying or selling a house, all that matters at the end of the day is the result.
You need to come away from these phone screens with a firm understanding of how the agents will find or market your property, how communication works with them, who your main points of contact are, and you need to get a clear picture of their whole process from beginning to end.
That's why you'll ask them…
Who would I be working with?
The real estate agent on the phone may or may not be the person you deal with on a day-to-day basis. You need to know who's on their team, who your point person will be, and how you can reach them with questions so that there are no surprises.
What's your marketing plan, especially online?
Every agent takes a slightly different approach to marketing a property but these days the internet is the biggest elephant in the room. Homebuyers' use of the web in their property hunt is nearly universal.  Suffice to say, if people can't find your property online, they won't buy it.
A top real estate agent will have a clear, concise, and proven strategy for tackling Realtor.ca, Google, Facebook, and the rest. Simply posting your listing to their website won't cut it anymore.
How do you handle prep work and staging?
Selling your house requires a boat-load of elbow grease. Your agent should guide you through all of the prep work, connect you with verified professionals. You need to find out what they think is necessary, what they do as part of the deal, and what they won't do.
How deep is your professional network?
Contractors, designers, stagers, home inspectors, pest-control, window-cleaners, painters, you name it—your agent needs to know a guy, vouch for their work, and fit your budget.
How often will we be in touch?
Get a feel for how accessible they will be throughout the buying or selling process, and if they have an office administrator helping them field communication efforts.
Do you have any buyers / properties in mind already?
Now, this question is key. The agent's answer could make your decision right here and now. If they've got a buyer already interested in your property, or if they've got a few properties for you to look at that day, you know they're on top things.
What do you think will be our biggest challenge?
I like this question to double check the agent's expertise. Every house, every housing market, and every buyer and seller come with a unique basket of challenges. A good real estate agent will see them coming and tackle them head on.
You're looking for honesty and humility here—the more straightforward they are about what you're up against the easier it will be to address the issue.
3. Brass tacks and next steps…
By now, you should have a solid feel for the real estate agent's character, approach, and personality. You've been talking to them for at least 10 minutes, after all. This is where the rubber hits the road: how much do you cost, what do you need me to sign, and where do we go from here?
What kind of guarantees do I get?
In general, you should watch out for agents who "guarantee" that they'll place you in a home or sell your home in a specific number of days. An honest agent won't promise what they can't deliver on.
How long do I have to review the documents before I sign anything?
You need to take your time with this decision and your agent should not pressure you into signing anything before you're ready to start.
How much do you charge and how flexible is that?
Real estate agents generally work on commission. The commission pays for your agent's assistance in pricing your home, marketing it to the masses, and negotiating with the other parties in order to get you the best possible price and terms, among other services. It covers the listing agent and buyer's agent fees (it's customary for the seller to pay both).
The national average commission is 5.0%, but there's a ton of variability here. You need to end this interview with a clear understanding of the agent's cost structure.
This is also the time to bring up your own personal budget. How much are you willing to spend and on what? Both parties need to be clear on the financials to see if there's a fit.
Can you send over some client references?
If performance data and online reviews aren't enough and you want to do a little more digging, you should ask the agent to provide you contact information for a handful of their previous clients.
You will want to speak with clients who dealt with similar properties and in the same area. References and the stories they tell can often serve as tie-breakers if you're stuck debating over two or three stellar candidates.
If I pick you, what's the first thing we need to do to get started?
Let's get this show on the road! Before you hang up the phone, you need an actionable next step and your agent should be more than happy to provide one.
Have a few minutes left?
If you find yourself with extra time, it never hurts to ask "what haven't I asked you that I need to know?" This question allows the agent to deliver information they feel valuable.
Honestly though, if you managed to go through all of the previous 16 questions there shouldn't be much more left to cover.
When all is said and done and you've hung up the phone, you need to ask yourself if this is the right agent for you. Do you feel comfortable with their personality? Were they prepared, clear, and direct about their approach to handling your business?
You're already talking to some of the best agents in your area—you just need to decide who you'd like working with most. Trust your gut and pick someone you feel comfortable working with and sharing the intimate details of your financials with.